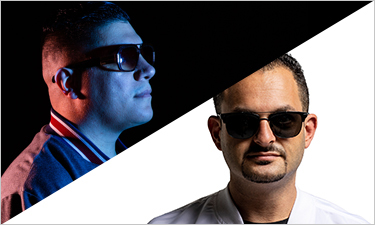 Fresh & Cutz: One Sound, Two DJs.
Traditionally a 2×4 set consists of two DJs playing together at the same time. What makes a Fresh & Cutz set so different, however, is the combination of sound, energy, and vibe that their music creates. After 19 years of DJing together, these two artists know each other so well that they can effortlessly play off each other's musical styles. The result is mesmerizing – akin to one DJ with four arms or a maestro conducting two orchestras.
When Fresh & Cutz are behind the decks, the visual show in and of itself is impressive. Both are master turntablists in their own right: each one bringing their own arsenal of music and style to each performance. The duo can easily get crowds up and moving to their own particular blend of party-rockin' mixes.
Fresh & Cutz are opening club-goers eyes and minds to what a true 2×4 set can be: two DJs that are both equally sound, dynamic, and well-rounded in their craft.