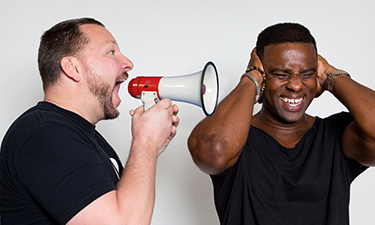 DJ Scooter and Lavelle Dupree are award-winning DJs unto themselves; but together, they create an unforgettable party experience.
When they spin together on two DJ sets, there is quite literally nothing like them out there. With Lavelle's banging progressive mixes surrounding Scooter's hip hop loops and turntable skills, they are the duo that is always making the crowds go wild. Their self-proclaimed genre of "bangin' progressive turntablism" is a unique style that simply cannot be duplicated. Spinning together for over 17 years, they have rocked shows all across the globe.
Scooter and Lavelle have played together at some of America's top parties including God's Kitchen, Winter Music Conference in Miami, the House of Blues in Los Angeles and Las Vegas, and the Sundance Film Festival in Salt Lake City. They have also been featured in Playboy's "Girls of the Hard Rock" and the feature film "Put the Needle on the Record" (http://dj-film.com/).
When they are not performing, they're in high demand for their production skills in the studio. The talented duo has produced numerous songs and is well-known for their bangin', peak time, big room tracks. Their track, "Beats Inside My Head," landed in the Top 10 XM Radio List and Beatport's Top Download list.
Scooter and Lavelle provide an experience not to be missed. Whether they're poolside in Las Vegas or amongst the snow-capped mountains in Alaska, Scooter and Lavelle are always bringing top-notch performances that drive crowds wild.
Upcoming Events
Jan 24
Scooter and Lavelle
Celebrity Summit (Cruise Ship)
May 25
Scooter and Lavelle