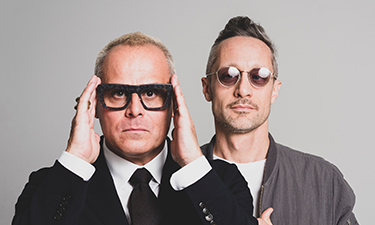 The Cube Guys is a club undertaking that was born in 2005 between two of the most prominent producers in Italy: Roberto Intrallazzi and Luca Provera. Although their backgrounds and professional training differs, their common desire to release new productions and contribute to the international club scene is equivalent. Together, they combine their previous experiences and endeavors to launch a fresh and innovative musical journey.
Roberto Intrallazzi began his musical career in the latter part of the '80s and beginning of the '90s as part of one of the most successful projects of the 'made in Italy' dance era, F.P.I. Project. Their track "Rich in Paradise" received worldwide acclaim and was one of the first house music releases to come out of Italy. Over the '90s decade, his sound evolved into more of the house music of today with influences from electro of the '80s. The combination of the strong energy and search for new rhythms typical of the '80s along with the contemporary minimal-electronic sound further assisted with the development of Roberto's style.
In 2000, Roberto Intrallazzi met DJ and producer Luca Provera, who matched Roberto's knowledge of music and technology. Luca got involved with music at a very young age by building his own recording studio and becoming familiar with the technicalities of making music. Luca utilized computers, mixers, samplers, and keyboards to launch his career as a producer and sound designer, employing both digital and analog equipment.
Luca later went on to produce a private Italian radio show and together with the artist Intrallazzi produced the album 'The Pleasure is All Mine' by Kym Mazelle. His radio and recording studio know-how led him to quickly gain familiarity with both the software and hardware necessary to produce quality house music. He isn't just a quality producer; he is a well-known DJ who plays frequently in alternative venues in Italy and all over the world.
The Cube Guys know how to make the dancefloor go wild spawning miraculous moments. Continually striving to bring an animated, floor shaking, and diversified attitude to their productions and performances, The Cube Guys draw inspiration from cutting-edge nuances in technology and the international clubbing community.
Combining house with tech elements and Vocal contributions, The Cube guys steadily persevere to emerge and mature on an international level. Taking part in some of the most eminent and influential parties and clubs globally, The Cube Guys have managed to disassociate themselves from the masses.